I hate having cold feet and yet I don't particularly like wearing slippers, I have the habit of curling up on the sofa of an evening doing some knitting or sewing or whatever, don't like the idea of sticking my crocs (bright pink that I wear slobbing around the house in lieu of slippers) up on the sofa.
So during one evening's wandering around the internet perusing crafty websites... I am on a mission this year I want to make all my christmas presents for the people I love. Could be a challenge but I am up for a challenge! I came across a pattern for a pair of crocheted Mary Jane Slippers. Ohhhhhh how pretty thought I (
visit Lisa at Goodknits
) I could do with a pair of those for keeping my tootsies toasty.
I modified the pattern a bit, I wasn't as keen on the whole low toe bit or the strap so I just did a couple of extra rounds before casting off the central stitches. That way I wouldn't have to do the the strap at all.
The pattern was surprisingly easy to follow, I'm pretty much a novice at crochet. Definitely would recommend this pattern to someone new to crochet, it's actually very simple and really quick, in 3 evenings I had a pair of very cute, incredibly warm sofa slip ons and I am LOVING them... LOL
So this is definitely going on the Christmas present list, I can think of a few people I want to make these for.
I got the buttons for putting on baby booties but the colour was just so perfect I had to filch a couple for my slippers. And the crocheted flowers were easy and quick, I can see myself making lots of these for decorating baby booties and hats.
See it's all a learning curve, everything thing one tries teaches something and leads on to other fabulous ideas.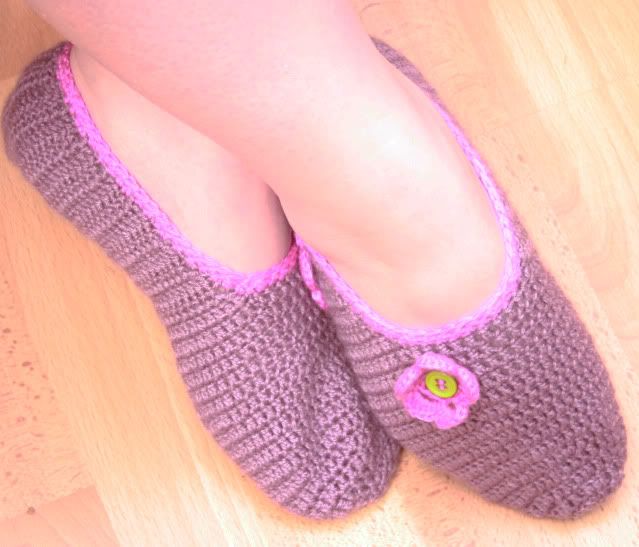 I LOVE LOVE LOVE my slippers and I now have very toasty toes... I will be making more of these... hmmmmm I am thinking Black and Pink next!