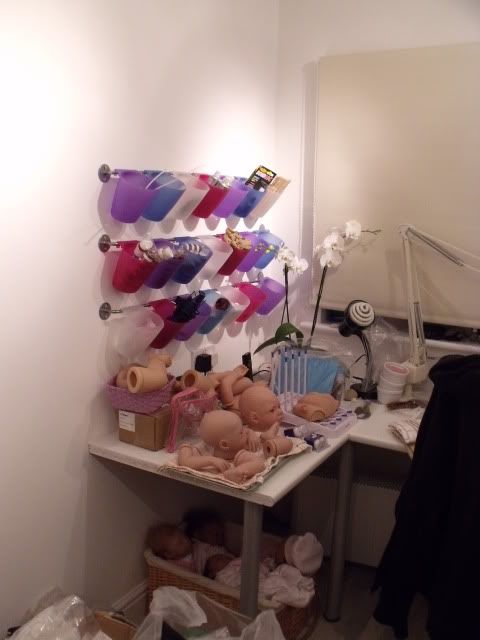 Finally my art room is finished, after several days hard graft painting the walls and the ceiling, it has to be said the ceiling was the worst bit, specially when my husband got a bit of an electric shock from the lights when he took them down to let the ceiling be painted... lesson learned... turn off the electricity even for the simplest of jobs, it's not worth the panic attack. Several days later his fingers were still slightly numb and covered in odd white spots!
I am loving the white walls, I was worried it would look really clinical but the addition of a cream roller blind and touches of colour, like the bright hanging pots on the wall, from Ikea stop the cold feeling and the brightness of the walls really does take advantage of the daylight available in the room, making it a pleasant working environment even late into the evening.
I'm trying to be careful and not rushing to bring every bit of craft stuff I own into the room, it's so tempting but if I do that I will just be surrounded by "stuff" and then it will be too difficult to sort it out. We've put in two white Billy bookcases from Ikea and a sofabed and I can see where I will be putting my filing cabinet, which will one day be modgepodged... it's on the list of "to do's".. once I finish the rest of the house that is!
And I think there is going to be one more bookcase in the room... trust me, every shelf will be filled, I have so many art and craft books it's untrue and I can't wait to unleash my creativity, however that is going to have to wait until the practical stuff gets done... oh the trials of the frustrated crafter!