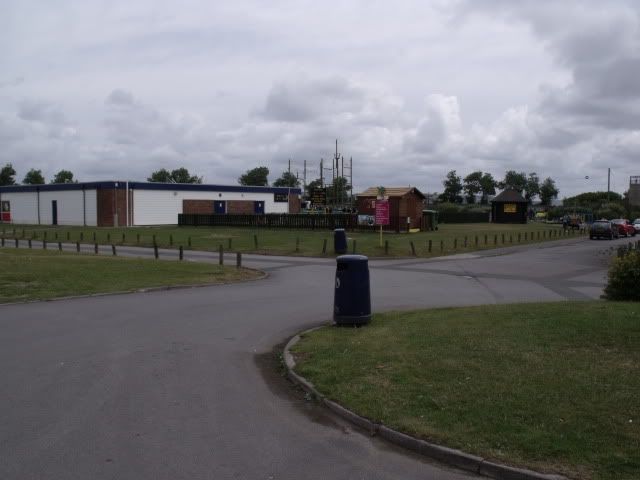 Two firsts for me on this trip, I'd never been to a Pontins and I'd never been to Weston Super Mare... so that's another two things ticked off the list.
I have to say when we arrived at the Pontins I was a bit shocked, it was like walking onto the set of Hi de Hi and not in a good way.
The point of this trip was really to meet up with our friends Natalie and John Milne and their daughters. We'd been looking forward to this trip for months so even dodgy Pontins wasn't going to spoil it for us.
I did almost rethink that thought however when Natalie showed us to our "chalet" or "shitlay" as I renamed it. It looked somewhat different to the pictures on the Pontins website and we found ourselves faced with either sleeping on the worst sofa bed or two of the smallest single beds I have ever seen in my life. Hmmmmm decisions, decisions!
We opted for the sofa bed which in itself presented us with some major problems.... whoever had used it before us had put it away so badly that I almost broke Pie's fingers when the two of us were trying to yank the bed part out of the sofa.
We'd taken a bit longer to get to Weston than expected due to a slight detour, Pie's fault... don't ask!
So by the time we got there we had missed dinner and had to settle for some fish and chips (me) and sausage and chips (him). It certainly wasn't cordon bleu but it was hot (burnt my tongue) and filling!
I slept surprisingly well on the demon sofabed, mostly due to alcohol anaesthetic, that and the major dip in the middle of the sofabed which meant we both ended up snuggled up quite intimately... it was either that or tie ourselves to the sides of the damn thing to stay in place.
The weekend itself went too fast, spending time with Natalie, John and the kids was so much fun, we went to a funfair and had a wander around a market and played Rock Band late into the night... fueled but the copious quantities of alcohol that Natalie and Pie had seen fit to bring on the trip.
I haven't laughed so much for a long time... and can't wait to get together again. By the time Monday came I had become quit fond of our "shitlay" having spent time naming all the fleas... actually that's really unfair, although the "shitlay" was quite run down and in need of refurbishment it was spotlessly clean and there were no fleas... I promise.
The other thing that was quite impressive was the food at the restaurant within the Pontins, well cooked, good portions and really nice, friendly staff who obviously worked very hard and enjoyed their jobs.
More Pictures
Little Miss Bizzy
The funfair a short walk away from the Pontins Park
The Girl Racers!
Getting some body Art
Pretty!!!
Who can resist that face?
Lolly and her deserts